Attachment:
File comment: Broken Warlock falls back to give the Blitz to the Necrons.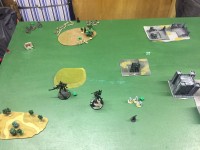 IMG_1810.JPG [ 1.39 MiB | Viewed 1388 times ]
The game finishes 2-1 to the Necrons with Blitz & Take and Hold (you can not see the lone monolith holding an objective on the far side of the table) vs BTS as the lone remaining model was off table.
It was a good game and the Eldar could have forced it into a third turn by targeting the Monoliths in the middle of the table before they activated and destroyed the Revenant instead.