NetEA Dark Eldar 2017 Vs Biel-Tan V4.2
This was a two fold batrep where we were wanting to see how the new Dark eldar plays plus see how the new "trial" farsight rule effects the Biel-Tan.
A few of the photos are a bit grainy, as I wasn't really checking them after I took them, so sorry.
Dave ran
Coterie + Barge - 350
Flotilla, Ravager, Dracon- 325
Flotilla, Ravager, Dracon- 325
Syndicate - 200
Vessel of Pain (1) - 250
Vessel of Pain (2) - 250
Vessel of Pain (3) - 250
Mandrakes - 200
Reavers - 200
Haemonculi Coven - 250
Razorwing (1) - 200
Razorwing (2) - 200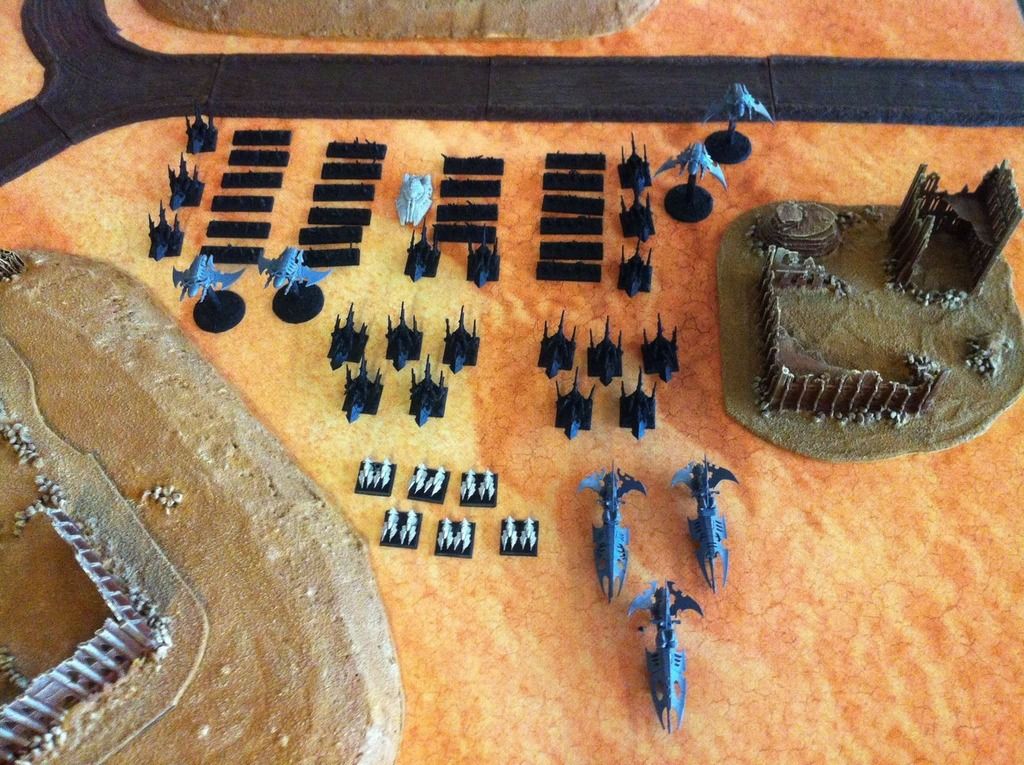 While I ran
Avatar- 0
Aspect- Autarch, Exarch, 3 Scorpions, 3 Dire and 2 Fire Dragons- 400
Gaurdians (1) -Wave serpents, 1 heavy weapon- 350
Gaurdians (2) - 2 heavy weapons -150
Ranger-100
5 Ranger -125
SOV- 2 Fire Storms -250
SOV- 2 Fire Storms -250
Scorpion- 250
Void Spinner - 275
Vampire -200
Revs - 650
The Table
The BT played a refused flank setting up heavily on their right flank. The DE eldar set up across their deployment with the Flotilla 1, Haemonc and VOP1 across from the bulk of the BT, with VOP 2 &3 centre field with Flotilla 2. The Coterie held the blitz and the syndicate and reavers rolled down the open flank.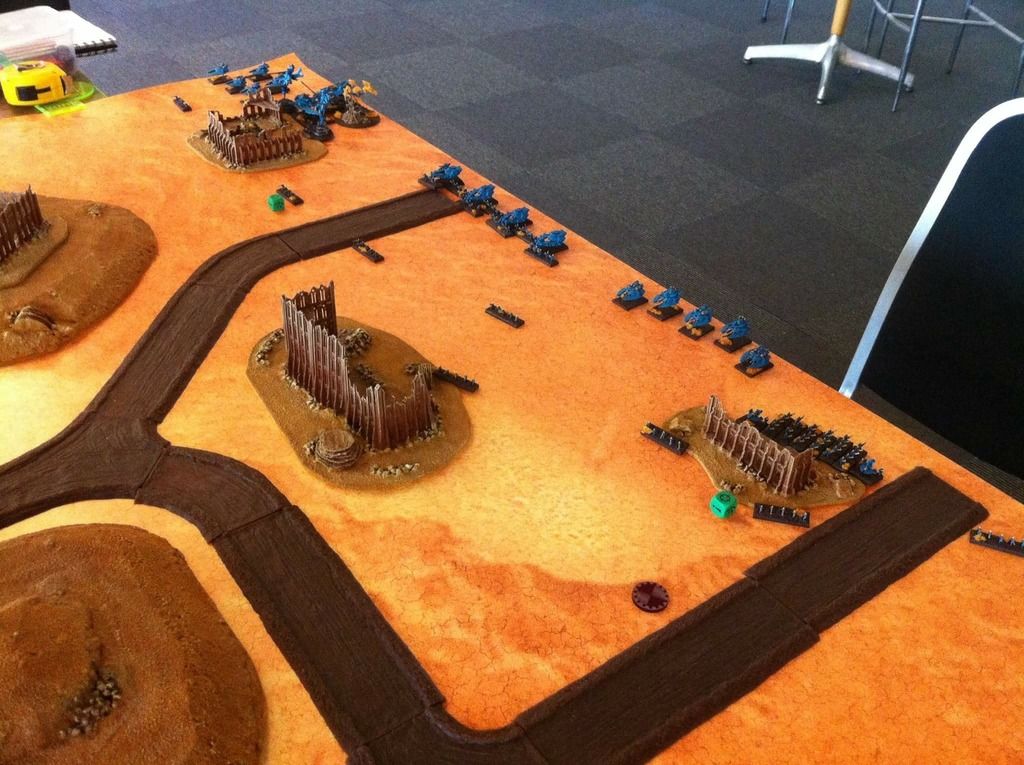 BT win the roll to choose sides and sets the game across the table.
Turn 1
DE- Win Strat roll
DE- Razirwing 1 go to CAP
BT - Scorps advances and pops up to fire on the Haemonculi coven who were mounted destroying two Raiders and along with 3 Wracks and a Haemonculi breaking the formation.
BT - Void Spinner retains sustaining on Flotilla 1 hitting 2 destroying 1 for 3 BM.
DE - Reavers double forward
BT - SOV 1 double and fire on Flotilla 1 scoring 5 hits and killing only 1 but breaks the formation who retreat behind some ruins.
DE - VOP 1 advances firing on SOV 1 killing 1 for 2 BM.
BT - Rangers 1 continue their overwatch
DE - Sydicate doubles forward towards ruins in the centre of the table.
BT - Ranger 2 fail to continue their overwatch.
DE - Coterie double and swap into the barge and remain on the blitz.
BT - Guardians (1) double and fire on the haemoc killing the wrack and the raider does from BM.
DE - VOP 2 advances killing 2 falcons from SOV 1 breaking the formation.
BT- Doubles forward fires on VOP 1 stripping a shield with a missile launcher and then misses all 8 pulsar shots due to the shadow field! 1BM
DE- Flotilla 2 doubles and fire on the Revs in the ruins for no hits, 1 BM.
BT - Guardian 2 triple forward to centre ruins.
DE- VOP 3 doubles and fires on Revs in ruins, no hits 1Bm.
BT - SOV 2 doubles and fires on Flotilla 2 for only one hit which is promptly saved 1 BM.
DE - Razorwing 2 attack the Void Spinner evading fire from two Fire Storms, 1 Bm, then fail to hit the Void spinner, 1 BM.
BT - Vamps/Aspects come in to try and destroy the incubi guarding the blitz who are all aboard the barge. Razorwing 1 who was on cap promptly come in a shoot the Vamps down with 3 hits and no saves.
Vampire Destroyed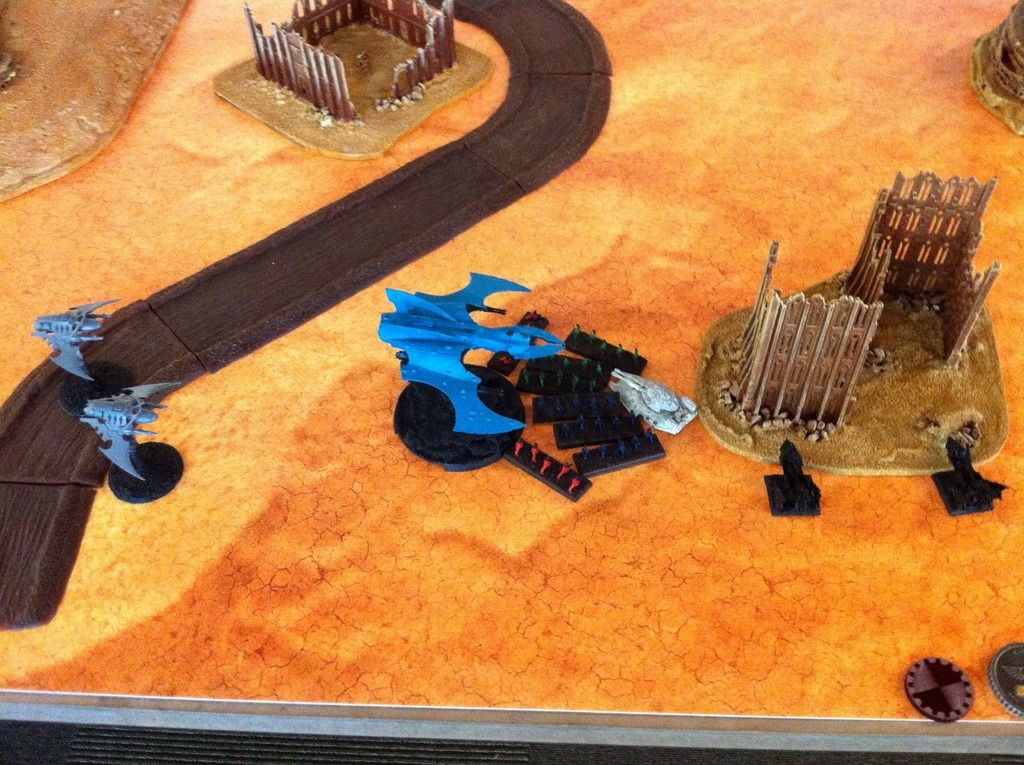 Flyers all fly off, Raz 2 fly of BT edge.
Rally
Do- Revs, Ranger 2, Flotilla 1, SOV 1, VS
Don't - VOP1, Haemoc
End of turn 1
Turn 2
The avatar joins the main battle. Alot is set for who wins Strategy roll.
The avatar is summoned in the centre of the table by the farseer with the wave serpents.
The mandrakes show up near the Void spinner ready to wreck the super heavy and take the blitz but take 2 BM on their way in.
BT - win the strat roll.
BT - the Revs sustain (rolled a 2 they had 1 BM) and delete Flotilla 2
BT- Avatar retains (rolls 4) and engages VOP1 as it still had a BM. 3 hits and two DC which goes crit and wrecks the VOP. the VOP does 1 damage in return which didnt crit.
BT - VS retains and fails on a roll of 3! (would have passed before new rule) however wears the BM and fires on the mandrakes which are about to assault it. scoring 3 disrupt hits and kills the 3 and breaks them.
DE - VOP3 advances and fires on SOV2 killing 1 falcon for 2 BM.
BT- Scorps advances and fires on flotilla 2 killing 1 and breaking them.
DE - VOP2 advances and fires on SOV 2 killing another falcon and breaking the formation.
BT- SOV 1 marshall and advance into a postion to provide better AA clearing the 1 BM.
DE- Razorwing 2 attack guardians 2 scoring 2 disrupt hits, kill 1, 3 BM.
BT- Ranger 2 fail and wear the BM firing on the mandrakes killing another from the BM.
DE- Corteire double and spread out across the raiders and Barge.
BT- Ranger 1 fail and clear BM.
DE- Razorwing 1 attack guardian 2 killing 1, 2 BM.
BT-Guardian 2 marshall clearing all BM.
DE- Reavers advance into a long range assault position on Ranger 1
BT- Gaurdian 1 fail to engage VOP2 and wear the BM and move forward.
DE- the Syndicate double setting a nice crossfire on gaurdian 1 with VOP 2 and 3. The 3 lance shots all hit on 6 wrecking 3 wave serpents and also another guardian stand for 7 BM which is just enough to break the formation. They retreat back towards the ruins they just moved from earlier that turn.
The Syndicate set up a great crossfire and roll some good dice to break the untouched guardians in wave serpents!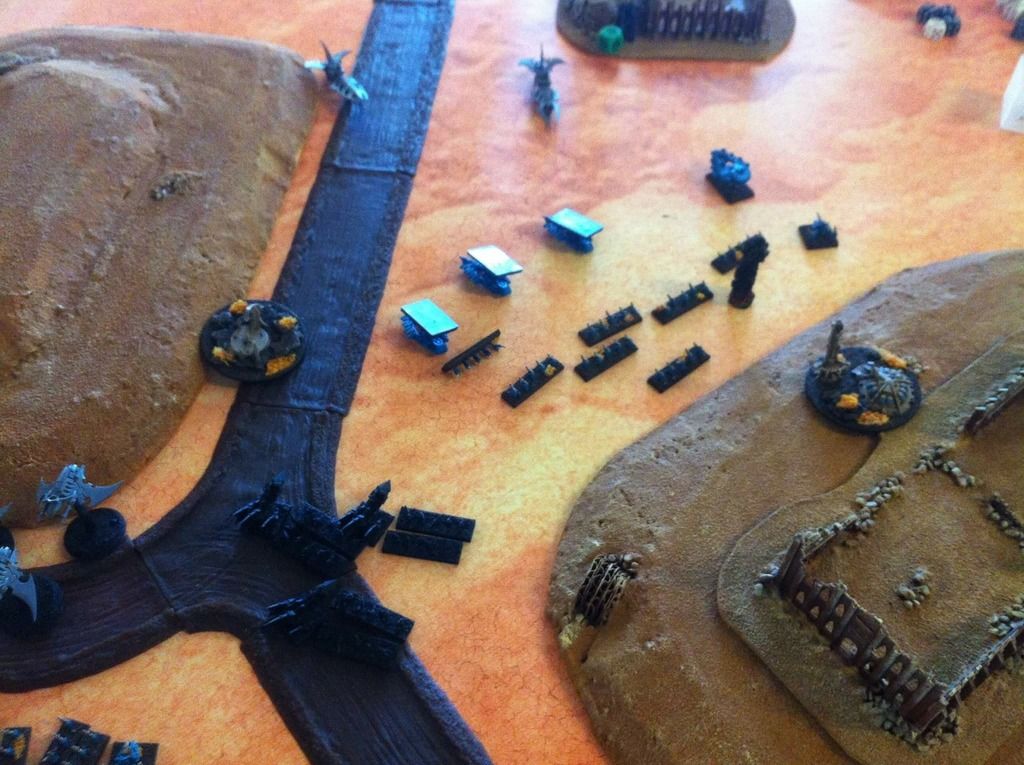 Both Razorwing flights are shot at by 2 Fire storms for no hits! 1 BM each flight.
Rally
Do- Gaurdians 1 , Revs, Flotilla 1 Void spinner, Ranger 2
Don't -SOV1, Mandrakes
End of turn 2
Turn 3
DE- win strat
DE- Syndicate fire on Gaurdian 2 killing 2 for 3BM before moving away to hold a objective.
DE- VOP2 retains failing to activate despite the SC reroll, moves away.
BT- Void spinner sustains on the reavers killing 3 and breaking the formation.
DE- VOP3 advances shooting SOV 2 for no hits 1 BM.
BT - Ranger 1 triple onto the far objective creating a perimeter around it in the ruins.
DE- Razorwing 1 attack ranger 1 but fail to hit, 1 BM.
BT- SOV 2 advoce towards contested objective and fire on the lone haemonc breaking it.
DE- Razorwing 2 fail to activate.
BT- guardian 2 marshall moving onto the objective to secure DTF and clear all BM.
DE- Flotilla 2 double towards Ranger 1 trying to clear a gap to the objective bit fail to hit, 1 BM.
BT- Ranger 2 double forward towards objectives putting a BM on VOP3.
DE- Corteire double forward and fire on Ranger 1 in the ruins for no hits 1 BM.
BT- Scorp advances onto objectives and fires on the syndicate contesting an objective killing two loaded raiders and the troops inside breaking the formation.
BT- Revs advance to hold 2 objectives firing on VOP3 in crossfire with 3 BT formations and wrecks it.
Razorwing 1 flys off
Rally
Do- Mandarkes, VOP2, Syndicate, Guardian 1, SOV 1
Don't- Haemonc, Reavers, Flotilla 1, SOV 2
End of turn 3, horrible pic and the second is not much better.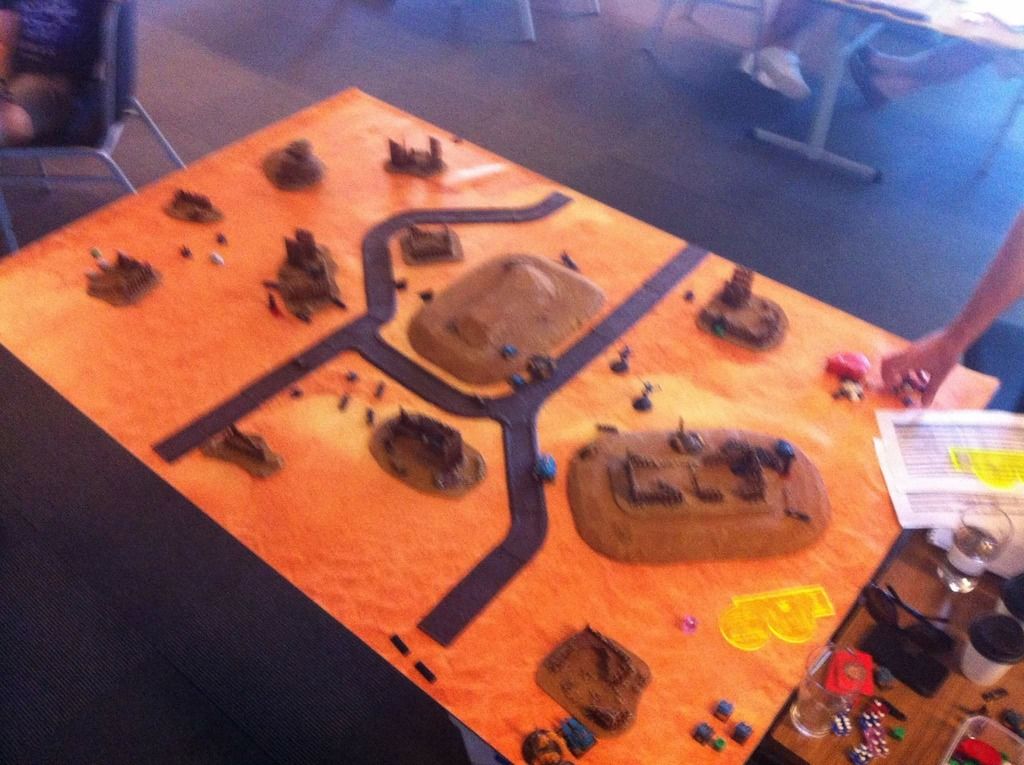 Result
Biel-Tan win 2-0 (DTF & T&H)
I will post some thoughts tomorrow after some sleep...