So it's been quite a long time since i have had an epic project to paint. I took a little hiatus from painting and worked on my scratch building and sculpting skills. Also world of tanks... But seeing some of these amazing infantry from Onslaught i decided what the hell it's time to do that tyranid army that i wanted to do a long time ago.
What i've gotten so far:
Onslaught infantry pack
3 exocirine
3 dactylis
3 haruspex
3 malefactors
1 dominatrix
1 FW harridan, will be using the body to make bio titan conversions.
3 trygon
5 biovorse
3 hive tyrants
1 genestealer familiure for brood lord
Looking to acquire, carnifex's and zoanthropes, as well as rippers to proxy for ravenors, when funds permit of course.
I wanted to start with the Onslaught miniatures, I believe these are Deacon's first miniatures he came out with. Initial thoughts: fantastic sculpts very nice, lots of cleanup on these little guys though. They take well to paint, althought i felt a lack of detail in some places, such as the huge claws on the mantis beasts. Such a big open flat spot needs extra attention so it doesn't look odd. Winged prowlers could use some spor of imprint on the wings, they too come across flat. Don't let these critiques in any way take away from the miniatures, they are gorgeous and definately fit the bill for your gaming needs. I am just trying to give a good pro and con from my perspective as i am a wash drybrushers on most of my infantry to move quickly.
I choose a white purple and grey color scheme for my tyranid army, i wanted something a little different, and i have a huge affinity for white with epic armies. I really think they pop when all grouped together on display. I spray my miniatures white then wash them with leviathan purple and drybrush white once dry to bring out the raised detail. all carapace is grey washed with badab black, drybrushed with off white and then white. The claws and weapons are painted in xereus purple, and then highlighted with a lighter purple.
Paints:
Old Citadel Codex Grey
Old Citadel Badab black wash
Old Citadel Leviathen purple
Old Citadel Skull white
New Citadel Xereus Purple
Americana Cool Neutral (off white)
Americana Wild Orchid (light purple)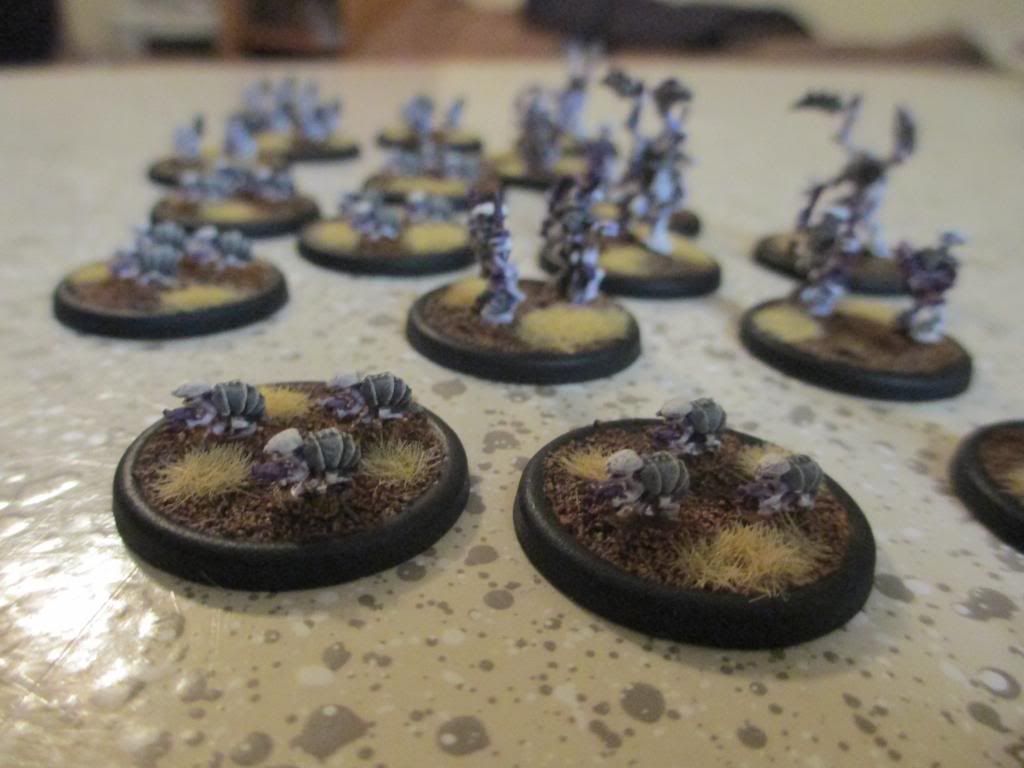 So far painted:
5 Lictors
7 Tyranid warriors
8 gargoyles
8 termagants
More to come, C&C welcome.
Thanks for looking,
Blind-