I'm not sure what the new "fluff" says but back in SM1, the closest they had to Kommandoz was StormBoyz. So what we did for clan purposes, we put Kommandoz, StormBoyz and RokkitBoys[StormBoyz with jump packs] in the same catagory. So intern the only Clan that can't have any of those is SnakeBitez. I don't know how long you have been playing Epic. But in SM1, the Ork sprue had StormBoyz but they had no jump packs. While in SM2 they released an Ork sprue with both Kommandoz and StormBoyz w/Jump Packs. We later called RokkitBoyz ... Here is a pic of one of my StormBoyz Mobs from SM1 [no jump packs] ...
Attachments: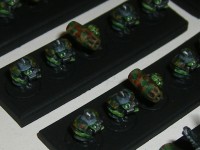 DSCF7862.JPG [ 137.62 KiB | Viewed 11744 times ]

_________________
Legion 4 "Cry Havoc, and let slip the Dogs of War !" ... "People sleep peaceably in their beds at night only because rough men stand ready to do violence on their behalf."