Good to see this

The list seems to be missing the Carnosaur though? It should really include stats for the 4 iconic known (admittedly OOP and unreleased) epic exodite models. The top right in this picture: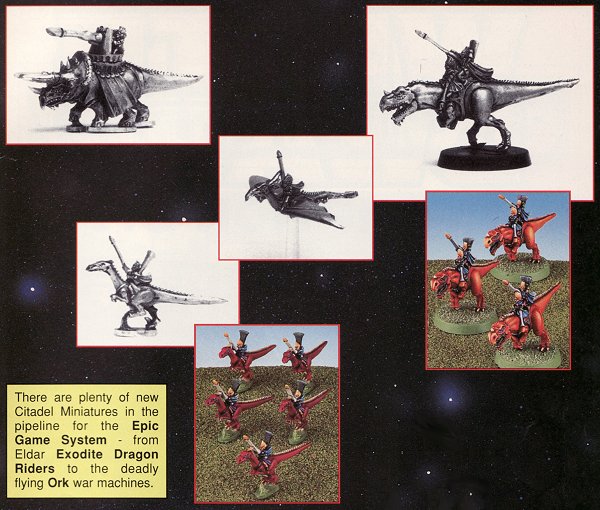 I see that the list includes both giant megadon and giant carnosaur WE which is good, but the existing megadon and carnosaur models in that picture are only AV sized. The rider is armed with a lance and it looks to a CC specialist, probably a lance cc attack from the rider and a +1 EA MW from the carnosaur.
I don't think War Walkers fit the theme and should be dropped, the list already has plenty of dinosaurs wih guns on which seem more appropriate. I'd also remove the spacecraft as I don't know the Exodites would have maintained a spacefleet or have regular enough links with other Eldar to justify allied spacecraft in their list. Farseer and Guardians need to be renamed if you're going to keep them too (I'd suggest dropping both too) as these are specifically Craftworld Eldar units.
Is the Fire Dragons in the quick reference an error? It isn't in the list and doesn't seem fitting.
The weapon stats dinosaur units carry seem to often be copies of units from the CE Eldar list just mounted on dinosaurs, though easier to test this seems boring and unimaginative. If you're going to have an Exodite list their technology and weapon effects should be different and distinctive - as different from the CE units as those are from the DE units. I'd suggest a more heavy re-write/ re-imagining of what some units are armed with. Given the dense jungle environments on the maiden worlds and their need to combat and control dinosaurs (where they would often want to herd them rather than kill them) I would suggest lots of guns with disrupt and/or ignore cover should be in the list as the Exodies weapons (as direct fire regulars guns not barrages like the CE disrupt weapons).