---
GlynG wrote:

Wikipedia say one is 80m long, which I think would be 25cm or so in Epic scale if I'm converting the math right?

Though that's probably just a number some BL novel writer invented. I'd probably rather scale one based on what seems reasonable for it's old transport capacity.




We never very good at math. But GW has been known for a "sliding" scale as we all know … This my also help … ?
Attachments: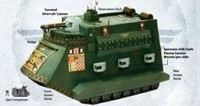 11018308_1046008142082683_4318115766101259549_n.jpg [ 10.32 KiB | Viewed 4341 times ]