There are rules out there for those Support Troops. We basically got them from pages 15-16 & 19 in the SM2, Armies of the Imperium. As you see we have a separate stand for each those.
Now for example, the Chaplain with jump pack figure we just mount on an assault stand and that unit gets the Chaplain bonus ... you just have to pay the extra cost.
Also in SM1, as you see in the TO&E in my first post, has a Bn HQ = Bn Cdr, with 2 stands one with the Cdr & one with his XO/2IC, both those stands have jump packs. Even if the models do no reflect that. And as you see in that SM TO&E that Bn HQ has a L/Raider for the Bn transport, and a 2 Land Speeder Recon unit.
These are all separate units. In SM once a unit dismounts from it's transport, they become separate units and get separate orders as long as they are over 6cms away for each other. It's a standard rule is SM1. The moronic rule from SM2 that the transports have to stay within 6cm or 10cm from dismounts is not the way it works in the real world. I know, I was in 3 Mech Inf Bns and commanded a Mech Co. with M113s, '84-'90.

The 2 Recon Speeders were standard Speeders but could call-in support fires from FA, CAS, etc. ...
Here's a pic of my Bn Cmd, and Support Troops ...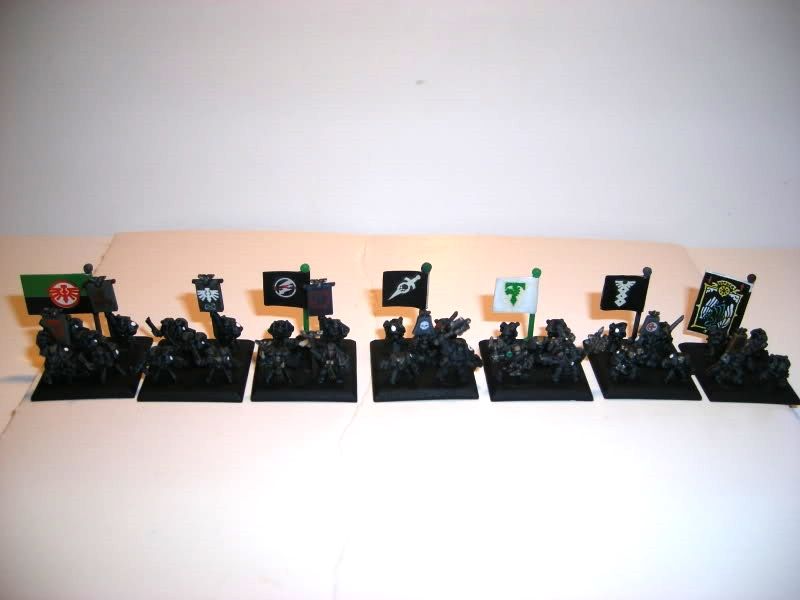 Left to Right ... the 2 Bn Cmd stands, Librarian, Chaplain, Tech & Medic.
The last stand is a Special Character stand, Based on some old 40K fluff. Cypher, who was a Fallen Dark Angel and is a Chaplain stand for my Chaos SMs.
One of my Recon Speeder Detachments [ I converted the one just for fun ! It came in a trade and was damaged]