Some Martian Tripods are coming together. Here is the sprue pic of the standard Assault Tripod with special weapons like Green Gas Grenades and the Black Smoke Launcher. As you can see, the sprue lay-out is very good.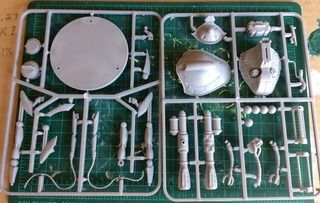 Here are the three models of the Assault Tripods all assembled. These things were a dream to go together. They were practically snap fit models and needed minimal glue. The pieces went together smoothly and easily. The middles have a natural point for magnetizing, but I have left it witht he basic tab for now and it holds together fine. All three took about one hour to 45 minutes to assemble.
The one on the left is my modified Green Gas launcher. I didn't really like the way the Tripods small arms were throwing the grenades before. It looked kind of silly. Therefore, I made it into a launcher by chopping up one of the extra Black Smoke Launchers. The one int he middle is the standard Assault Tripod. Finally, the one on the right is the Black Smoke Launcher. I think this weapon looks awesome on the Tripods and is very imposing.
Next up is the Scout Tripods.