---
Review: Star Wars Miniature Battles- West End Games

A long time ago, in a hobby shop far, far away…..

As a young lad, I was a typical nerd kid. I liked war gaming and had gotten my start in the Warhammer worlds of Fantasy and Rogue trader. However, I also liked RPGs and played AD&D, Shadowrun, and of course West Ends Star Wars RPG. I had stumbled across the Star Wars Miniature Battles rules as well but could never find the scratch to buy it. Plus, I was not very fond of the Star Wars metal miniatures of the time. Consequently, I never picked it up.

However, today is a different age. No longer do I need to poke around dusty, dark bookshelves and avoid the store cat to find such archaic oddities! No, thanks to the wonders of the internet you can find old, no longer produced titles available from anywhere across the globe! In my wandering I ran across that which I had not tried before…. Star Wars Miniature Battles. I got a copy and decided to give it a go!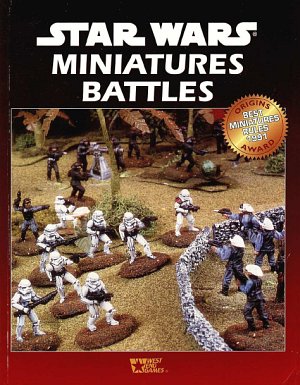 I have clearly played Star Wars themed wargames before. Upon receiving my goodies of nostalgia, I rushed home and dug out the Galoob Micro Machine Strom Troopers and Rebels that I had available and scanned through the basic rules. I was eager to see what this book held and the long held promise of Star Wars wargaming from yesteryear. With FFG's Legion rules on the horizon, now seemed like a good time to give these a review.

May the Force be with us!

You can read the rest here:
http://bloodandspectacles.blogspot.com/ ... -west.html